Revolution Motorhomes are quickly becoming the "Envy" of the RV industry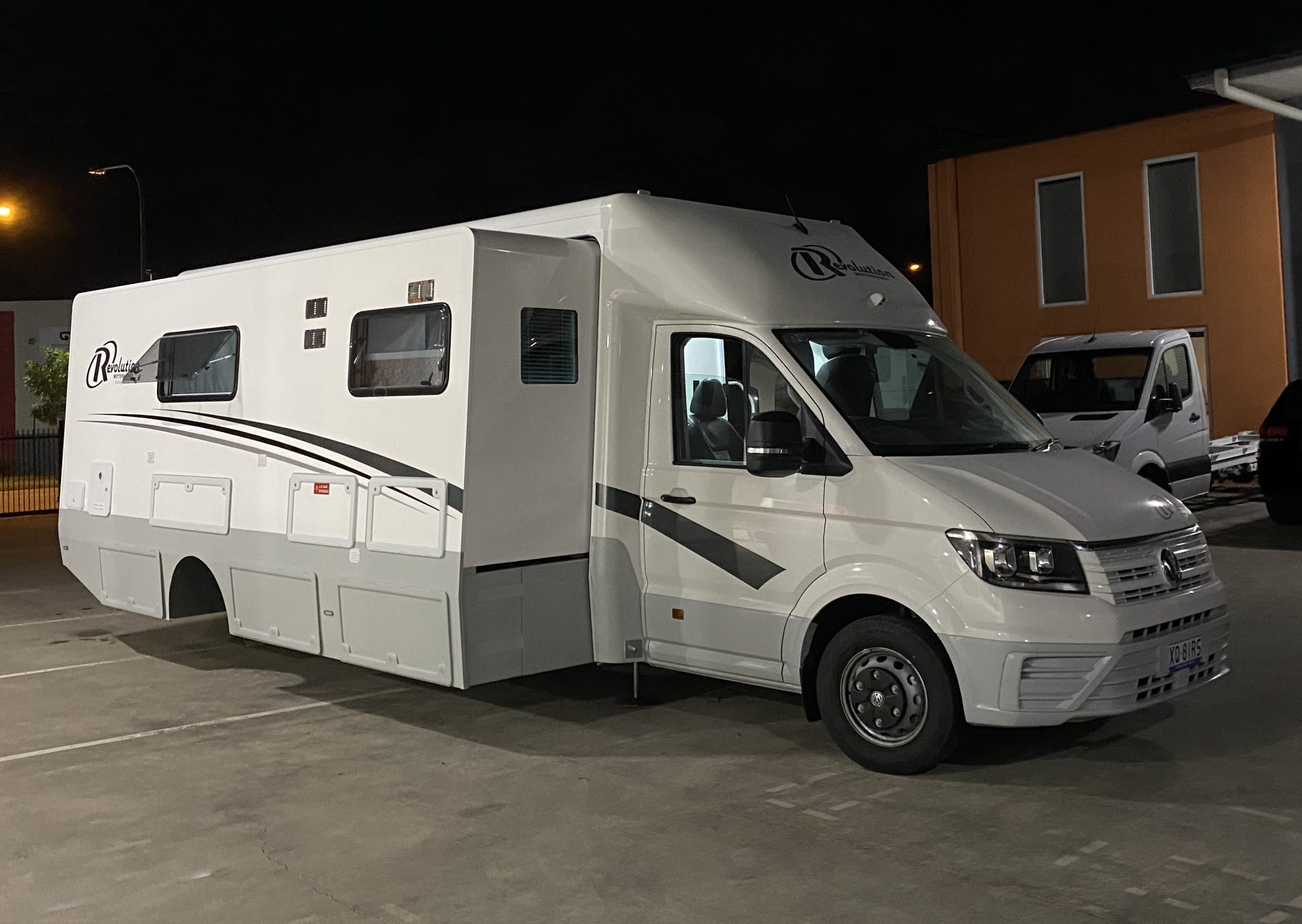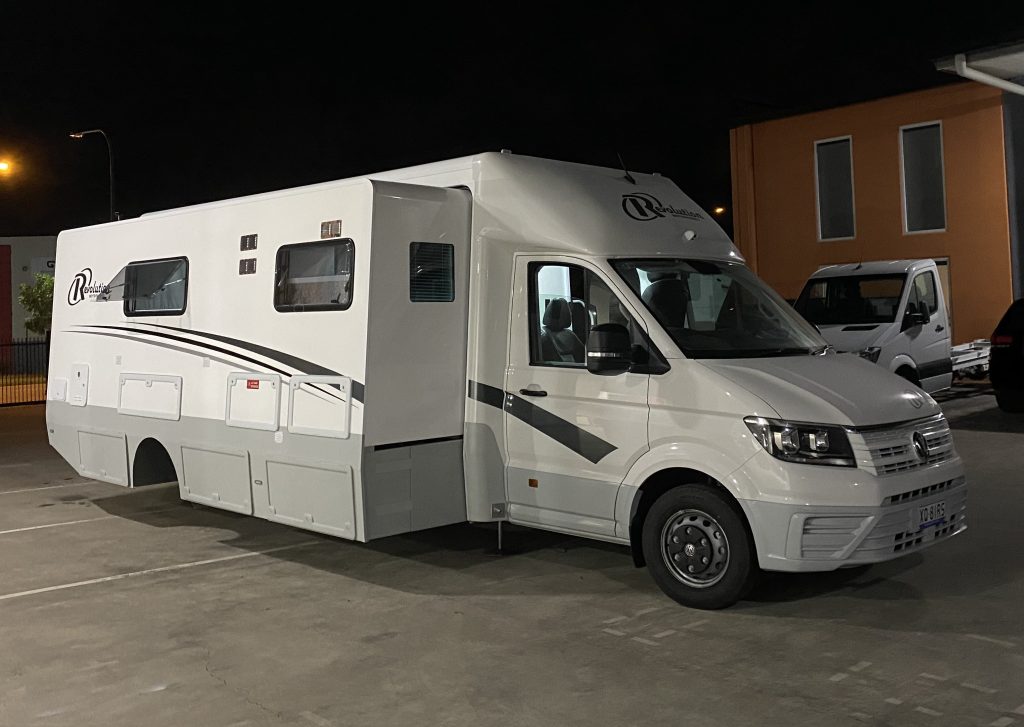 Revolution Motorhomes provides the best value for money, functionally superior, spacious high-quality motorhomes in Australia. We believe in creating the feel of travelling in your own low-maintenance open plan luxury apartment on wheels, that surpass all Australian Safety Standards.

In comparison to our competitors' similar sized motorhomes – you quickly realise Revolution Motorhomes are years ahead of the industry.

Revolution Motorhomes have created extremely spacious, more practical motorhomes, which incorporate the many benefits that our patent pending RV innovations provide.
Structural Engineering & Technology
Just like a house the strength of the building is determined by its foundations which cannot be seen after the house is completed, because a building's foundations must be approved by a council inspector. Before the building can be completed most people do not consider comparing their home builder's footings specifications. We design and build all of our motorhomes to have the ideal weight distrubtion which makes your motorhome a dream to drive. The length of your motorhome requires the weight distribution of your motorhome's design to suit not only the ideal lower centre of gravity, but to also meet with the correct axle weights for your vehicle's chassis. Whether it is a box-section chassis ie. Mercedes or VW – or a C-section chassis like the Iveco, without the correct weight distributions your motorhome will be less stable on the road, which leads to wheel alignment issues, uneven tyre pressures that can lead to exploding tyres and these can all cause stress to the body of your motorhome.
The structural strength and ultimate safety of a motorhome is determined by its foundations (e.g. Floor Frame strength, attachment to the vehicles chassis & rollover protection), but unfortunately because there are no clear motorhome strength or safety standards and no independent verification approval process throughout the building process,  the strength of the motorhomes floor frame, attachment to vehicle's chassis or rollover strength.
With the lack of standards a prudent purchaser would be well advised to thoroughly research each manufacturers complete building processes.
Anyone that has seen how readily a caravan disintegrates in an accident understands that a motorhome should not be built like a caravan, but because of the lack of motorhome safety standards most manufacturers still chose to build their motorhomes using the identical processes, materials and lack of structural strength.
Our triangulated structural rollover frame, advanced construction materials & composites, construction methods and our patent-pending slide-out technology allows our Desire's Slide-out range to be slimmer than competitors motorhomes, but when the slide-out is extended the Desire's slide-out range has  an internal living width of over 3.1 metres. This is approx. 150 to 200 mm wider than any other comparable slide-out motorhome in the Australian market. Due to our engineering and design, our slide-outs do not require support legs or roof-top awnings. Whilst in travel mode, the motorhome's centre of gravity is kept neutral due to our weight distribution and engineering design. 
Our Auto-Start generator is integrated with the installed CZone system. When your lithium batteries reach a preset minimum percentage, your generator will Auto-Start, taking care of your power needs and re-charging your batteries at the same time.
Slide-out technology – benefits
Safety, Strength and Durability Advantages
Structural support integrity throughout – superior high tensile alloy structural floor frame and triangulated roll over frame provides a much stronger structural support than others currently in the market. The Desire Series has an exceptionally stronger high tensile alloy internal and external frame work with custom extrusion full-length coving to protect the outer edges. This coving provides additional structural strength and superior water-proofing.

Swivel TV Bracket pull tested to over 120kg. (The TV safely stays in position whilst travelling)

Revolution's automatic locking system for our Cabinets & Drawers gives an added safety feature that prevent the contents becoming missiles in an accident.

Gas Safety Hose – If the gas line ruptures in an accident the flow of gas is automatically be stopped at the gas bottle. In Desire's SL ranges, the gas bottles are situated in the Slide-out with the gas stove & Hot Water Service which eliminates the need for flexible gas lines inside the motorhome.

Entry Door Grab Handle improves usability and helps prevent falls.

All our Cabinetwork is structurally bonded and screwed to the body, thus reducing noise and provides additional strength and durability to both the cabinets and body.

Full length piano hinges which are screwed along the entire length of our cabinet doors, 2 screws every 50mm insures maximum strength & durability while also preventing the doors dislodging in an accident and becoming missiles.
For example; while our 0.5m long overhead cupboard door is attached with 24 screws, manufacturers that use house hold type door hinges are only attached with 12 to 18 screws.

Revolution's Patent-pending slide-out system – Resolves the durability, noise and water leakage problems normally associated with RV slide-outs. We build our very strong high tensile AirCraft alloy slide-out structural support beams in as part of our motorhome's floor frame. Contoured structural composite and pressurized seal system means no slide-out awning necessary. Designed for easy maintenance.

Interior linings are produced using the latest manufacturing technologies, resulting in a finish that is kind to people with allergies – that you simply wipe with a cloth to clean. Our interior linings do not absorb dust, moisture or odours, and are mould resistant.
A full 360 degrees Bird's eye Surround View Monitoring System (SVM) is a standard safety feature with our Desire Series motorhomes. This added Safety feature can also be optioned on  all of our van conversions.


4 Full 3D HD ultra-wide fish-eye night vision cameras with G Sensor, which gives you four unique views that seamlessly merge to create a complete 3D image of your motorhome and its surroundings. Use the 360° view to assist with parking, check your blind spots, aids navigating heavy inner-city traffic & narrow roads. High definition 1080P HDMI video output, enabling you to watch from your 7" HD monitor. This system also comes with 4-CH DVR recording system.
Revolution Motorhomes has a 5 Year, Unlimited
Kilometre Build Warranty.