Our Desire Series truly stands out from the crowd in functionality and price.
Revolution's aptly named Desire Series combines the best of all worlds, on road they are remarkably compact and easy to drive, yet in living mode are supremely spacious with unparalleled functionality with luxury standard features all at an amazingly affordable price that cannot be matched by any other Manufacturer. More importantly in "travelling mode" the Desire's entire range maintains full access to the kitchen, lounge, wardrobe, and rear bathroom.

On road the Revolution's Desire Range's modern slim-line aerodynamic contoured body and awning that does not protrude out past the body is narrower than other luxury car-licenced motorhomes. In combination with the standard 3D 360° "Birds Eye View Driving Camera system" our Desire Range are infinitely easier to drive, much safer to negotiate tight country roads or heavy city traffic and make parking in confined areas like caravan parks a breeze.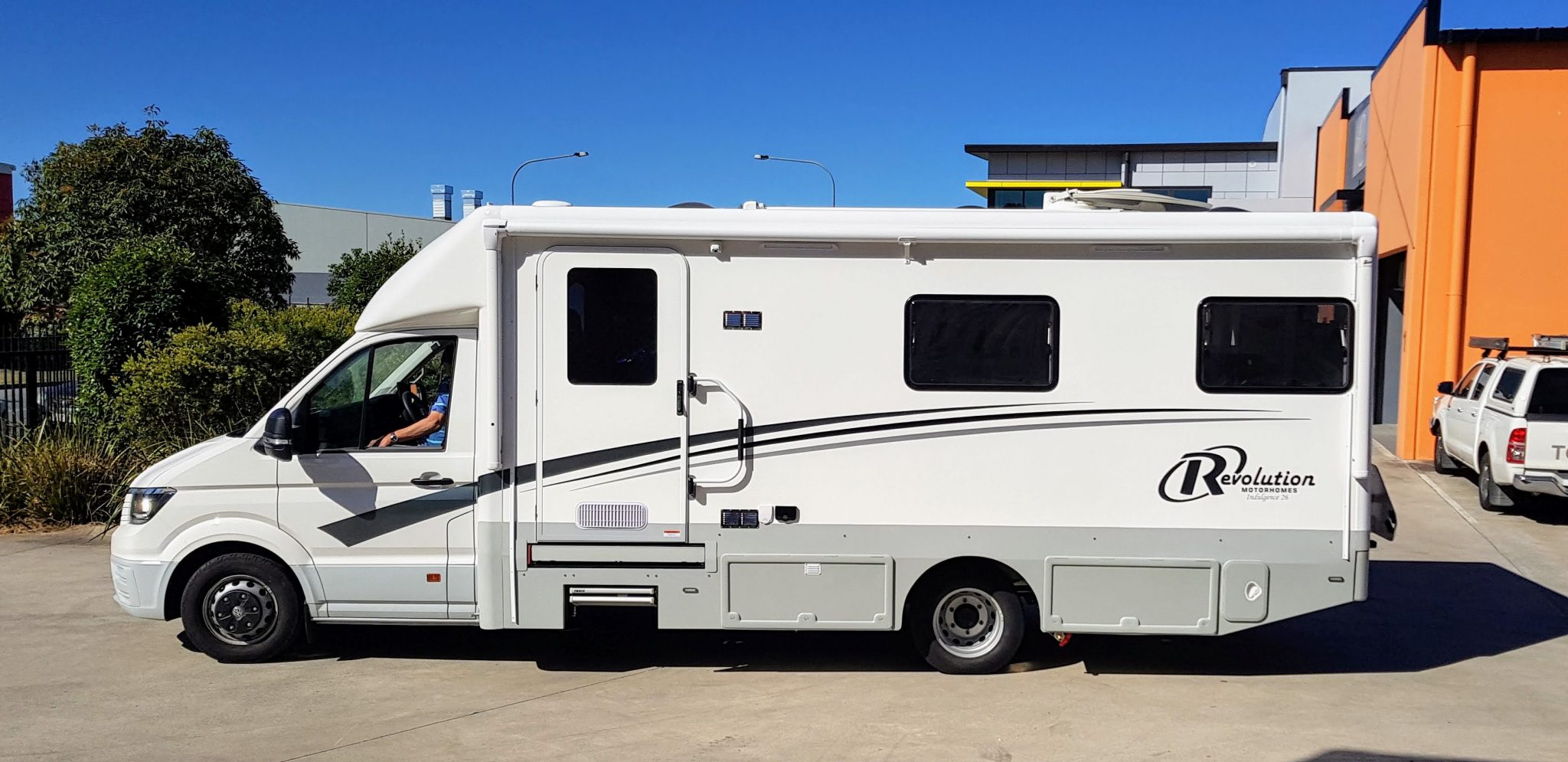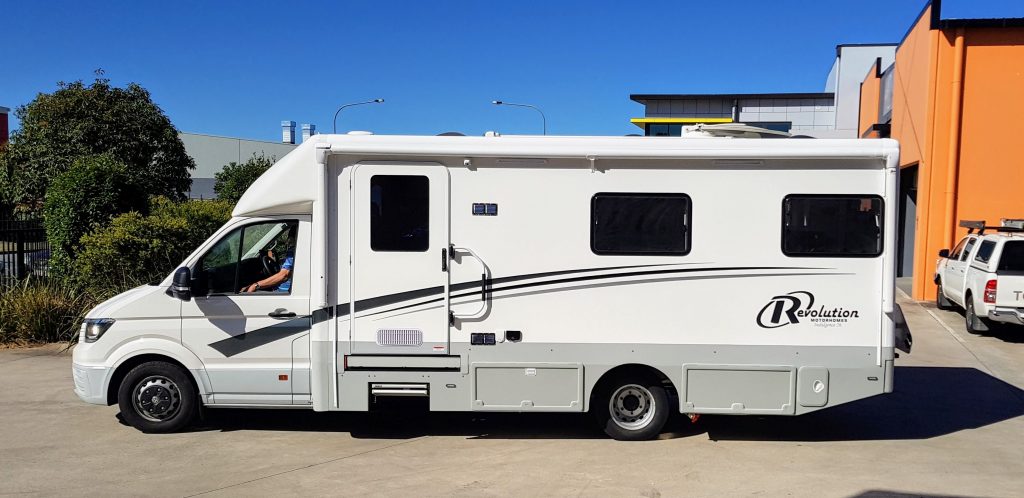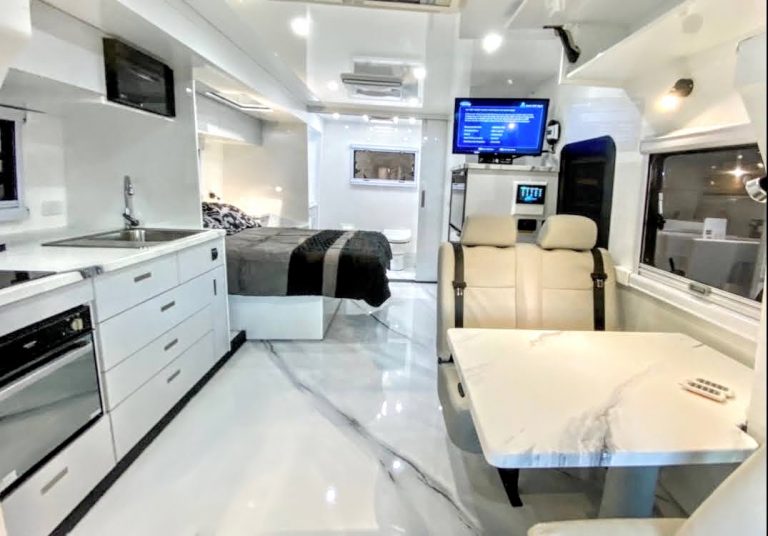 Car Licence – Luxe Range 20-22ft & Desire Range 22-25ft – with or without a full-length slide-out.
Light Rigid Licence – Desire 26SL, Indulgence Range 26-30ft, 2 or 4 berth motorhomes with a 'toy-garage' , 30ft Sanctuary motorhome, or 35-40ft 2 bedroom option with their own ensuites' – your motorhome is custom-built for your lifestyle. 
The Desire SL & Desire Indulgence Ranges' much stronger, longer and wider full length driver's side slide-out which includes our rear bathroom, transforms the interior living space to become an unparalleled 3.1 metres + wide with standard features like the largest kitchens, genuine queen-sized beds, expansive wardrobe & storage space and the largest rear bathroom in the market that features either a large separate shower cubicle or wet-room shower and market-leading storage, and our latest innovations – automated exterior storage bins, automated windows and blinds system, and our Odourless, non-vacuum self-cleaning macerating toilet system. Our Desire SL & Indulgence Range truly stands out from the crowd in functionality and price.
The variety of sleeping arrangements include the 50 seconds Automated Lounge, full size Twin singles, genuine Island double or Queen bed and in the Desire 26SL & Indulgence range the option of a genuine island king size bed. Our 30ft Desire & Sanctuary comes with a variety of entertaining options from cinema chairs, XL corner lounge seat or 2 lounges with own dining tables for family members to have their own space.
We also offer a car licence 4 seat/4 berth option on the Desire 24SL.
We can custom-build you a motorhome with a rear garage for motor bikes, karts, quad bikes even a 2 seat golf-kart – with or without a workshop, complete with automated platforms and ramps.
If you take the time to compare our Luxury Desire Series to our competitors' similar sized motorhomes you quickly realise Revolution's designs, technology, structural strength, quality, luxury, vehicle safety and value for money are truly unrivalled.
To ensure Revolution exceeds even the most decerning customer's expectations, Revolution has optimised every part of its new ground-breaking Desire Series. 
In line with the  EnerDrive Power system and CZone touch control system, you can walk in your motorhome, turn on the air-conditioning and not worry about your power supply with our Auto-start generator feature. The Auto-start generator will transition to take over from the inverter to power your motorhome when the lithium batteries reach the preset low voltage readings.  Our Auto-start generator will power your motorhome and charge the batteries at the same time.
For our Indulgence Series, full travel mode will see your automated windows, fan hatches, rear bike racks, storage bins, awning, entry step, levelling system and satellite tv all pack away ready for travel when you start your vehicle.
Revolution's slightly tapered body shape not only gives our motorhomes a much smoother more aerodynamic fully integrated appearance much easier to drive, triangulating the body shape significantly increases the strength and rigidity of the entire motorhome including our vitally important roll-over frame, with internal and external structural frames with full length covings that protect the edges and provides superior water-proofing.
We work closely with our clients to ensure their custom-built motorhome exceed their expectations. Desire 22 and Desire 22 SL have a variety of floorplans (not shown) – please contact for more information.
Revolution's Desire and Indulgence Cab Chassis Series are available on either the new 8-speed VW Crafter, Iveco Daily 50-70C, Mercedes Benz Sprinter or Mercedes Sprinter 4 x 4 and the Iveco EuroCargo.
DESIRE SERIES
Wheelchair Accessible Motorhomes
When travelling to visit friends and family or to see our great country, not all have accommodation and bathroom facilities that are disability or wheelchair friendly. Revolution Motorhomes' Desire SL range of wheelchair accessible designs customised for your personal needs. Self-drive applications available for the independent traveller who wish to travel solo or with their Carer.
All of our designs are adaptable to suit to our client's needs. From creating a dual purpose everyday use MWB van with bed slide-out, internal shower space with rear slide-out kitchen to a 39ft luxury fully accessible wheelchair motorhome with 2 bedrooms with own ensuites.
In addition to this range we can custom-build full wheelchair accessible mobile work offices and medical offices.
Shipping to New Zealand – please contact us in regards to Customs and tax exemptions. As New Zealand has different GVM allowances for Car-Licenced vehicles, all our motorhomes under 6 tonne that are shipped to NZ can be driven with a NZ Car licence.