Wheelchair Campervans & Motorhomes
When travelling to visit friends and family or to see our great country, not all have accommodation and bathroom facilities that are disability or wheelchair friendly. Revolution Motorhomes' range of disability and wheelchair accessible designs are customised for your personal needs. Sleeping arrangements are either double/queen bed or twin singles. Self-drive applications available for the independent traveller who wish to travel solo or with a Carer.
All of our designs are adaptable to suit to our client's needs. From creating a dual purpose everyday use MWB van with bed slide-out, internal shower space with under-bed rear slide-out kitchen to a truck-licence 35-38ft luxury fully accessible wheelchair motorhome with 2 bedrooms with own ensuites. Great for a family or travelling with a Carer.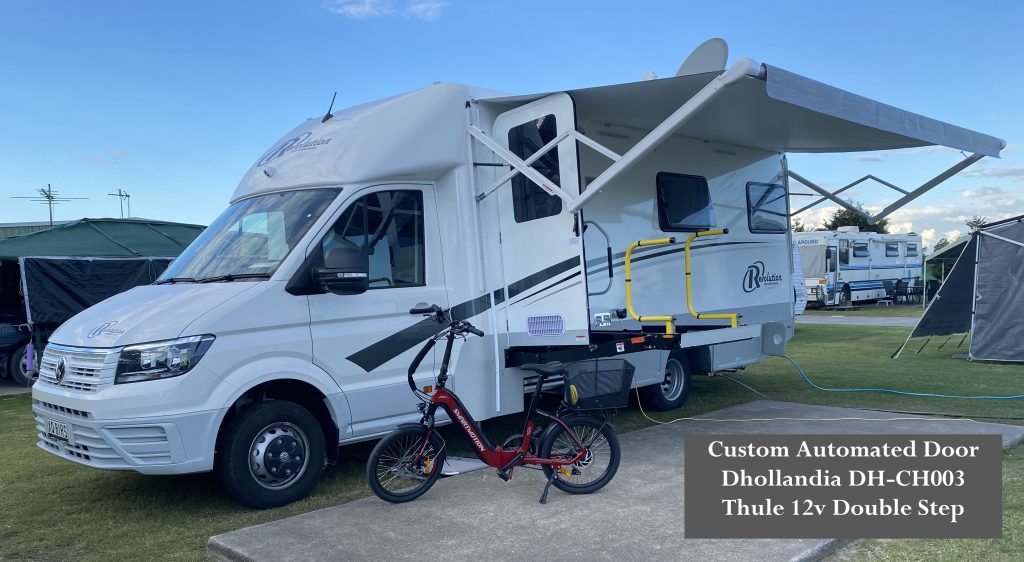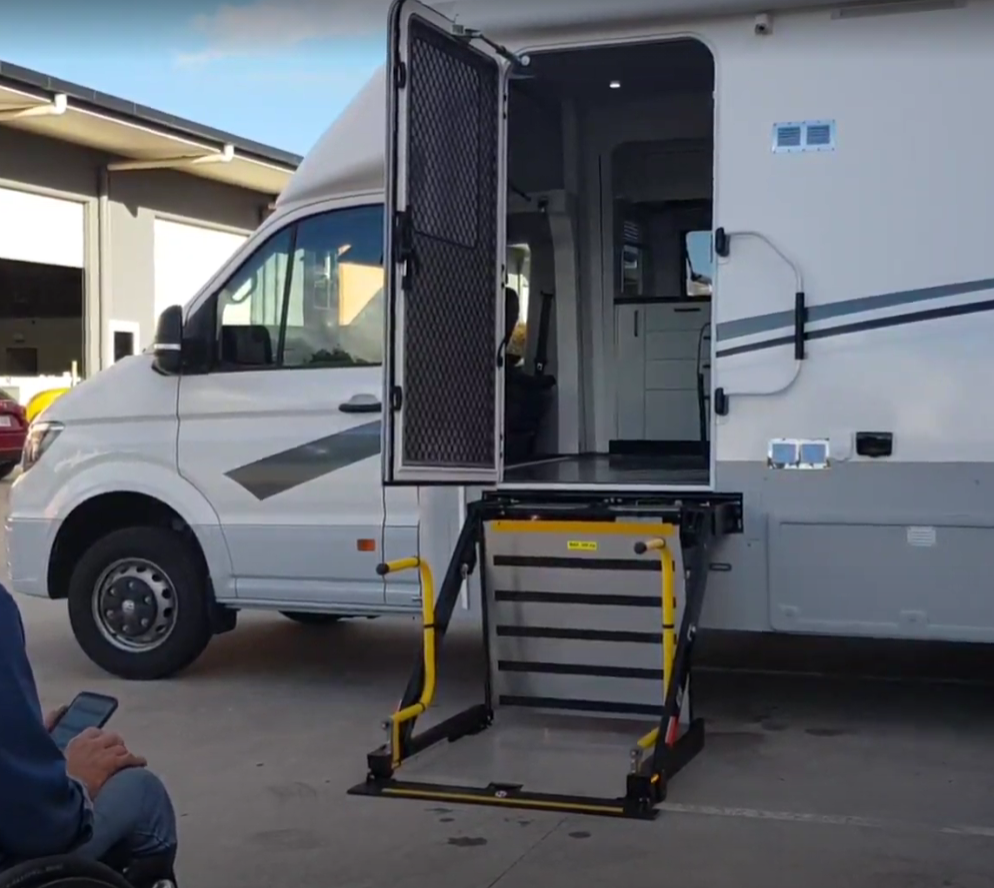 In addition to this range we can custom-build full wheelchair accessible mobile offices.
If required, we write reports for your OT to submit to – NDIS/TAC/SIRA/Trusts for funding applications.
Sleeping arrangements – twin singles, double, queen or king size bed.  Adaptable to suit your requirements, for example a height adjustable single bed that slides away from the wall for the Carer to access both sides of the bed or elevating bedheads.
Our structural build for our wheelchair motorhomes come standard with the strength to install a ceiling track and gantry hoist if not installed during the build process. This is also advantageous at point of sale.
From campervan for daily driver/weekender to our 2019 designed Sanctuary 38ft  2-bedroom motorhome  built for full off-grid living – all designs are custom-built to suit your needs.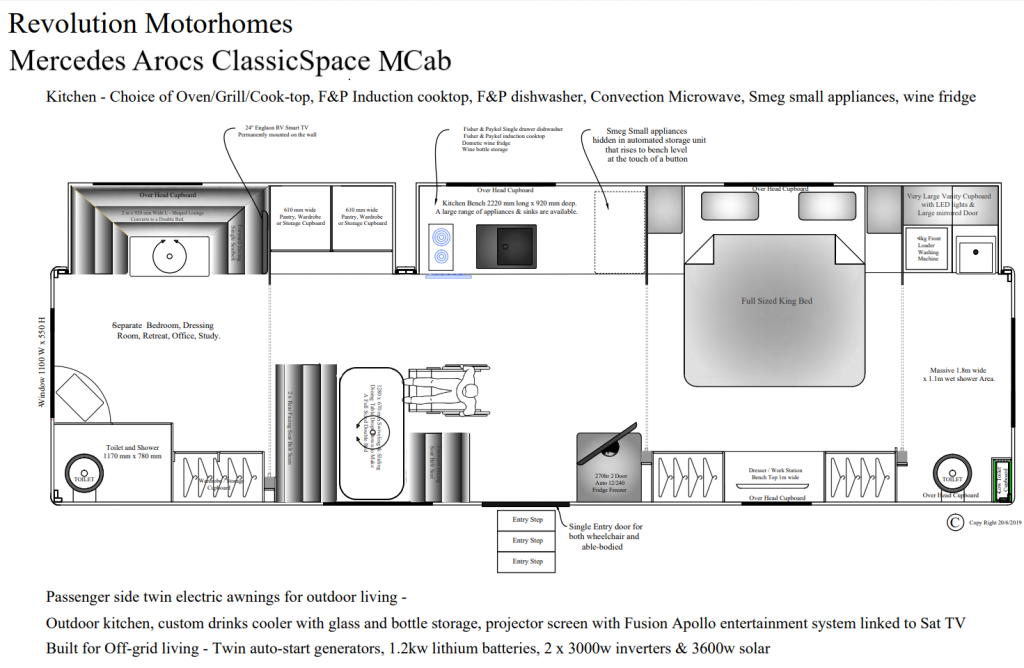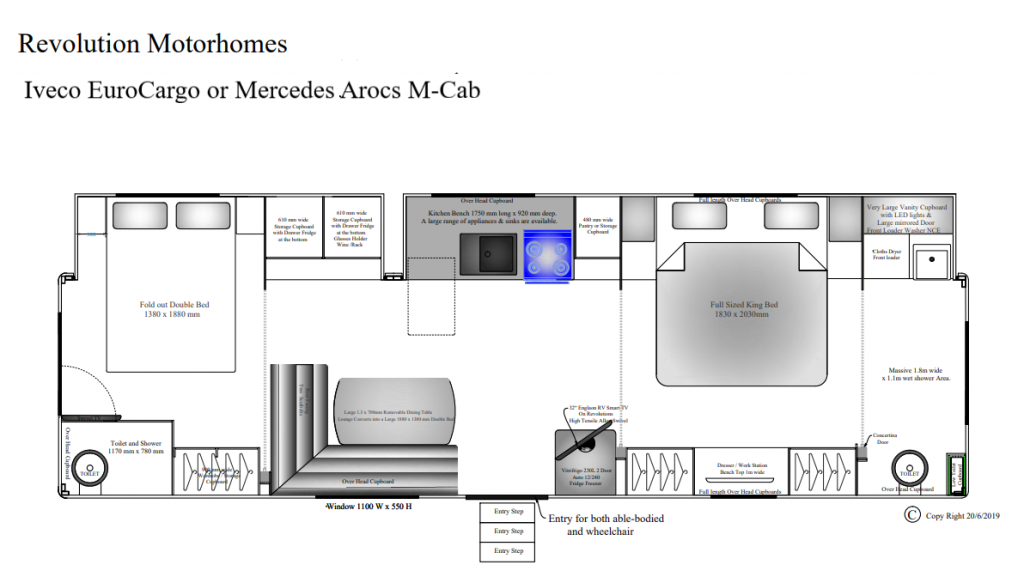 Shipping to New Zealand – please contact us in regards to Customs and tax exemptions.
As New Zealand has different GVM allowances for Car-Licenced vehicles, all our motorhomes under 6tonnes that are shipped to NZ
can be driven on a Car licence.
CUSTOM DISABILITY OPTIONS INCLUDE
Single bed tracks for access to both sides of the bed
Height Adjustable bed – single bed
Electric swivel seats that are height adjustable for transference
Disability Driving Aides, Lift Hoist and Roof track system
STANDARD – Electric Swivel seats
STANDARD – Automated Slide-out exterior storage bins
STANDARD – Automated window and Blind system for kitchen
STANDARD – Auto-start generator
Other Motorhome Options include
Bike rack – standard or E-Bike (automated option)
Automated rear Hand bike storage (ie. Batec)
Outdoor kitchen
External TV
Elevating bed head
Extending vanity bench with leg room clearance
Extra Batteries/Solar panels
Extra water
Tow bar
Satellite TV
 Extendable Work Station/Vanity
Toilet seat options