Wheelchair Campervans & Motorhomes
When travelling to visit friends and family or to see our great country, not all have accommodation and bathroom facilities that are disability or wheelchair friendly. Revolution Motorhomes' range of disability and wheelchair accessible designs are customised for your personal needs. Sleeping arrangements are either double/queen bed or twin singles. Self-drive applications available for the independent traveller who wish to travel solo or with a Carer.
All of our designs are adaptable to suit to our client's needs. From creating a dual purpose everyday use MWB van with bed slide-out, internal shower space with rear slide-out kitchen to a 30ft luxury fully accessible wheelchair motorhome with cinema chairs. In addition to this range we can custom-build full wheelchair accessible mobile offices.
Shipping to New Zealand – please contact us in regards to Customs and tax exemptions. As New Zealand has different GVM allowances for Car-Licenced vehicles, all our motorhomes shipped to NZ can be driven on a Car licence.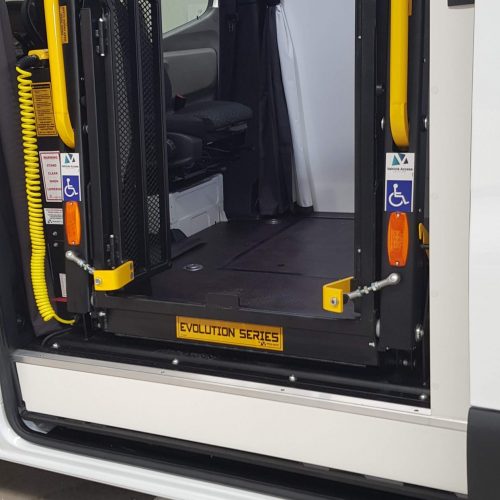 DESIRE SERIES MOTORHOMES –
Wheelchair accessible
24w
26w
30w
Fitted with Custom Motorhome entry door for
VW Crafter
VW Crafter
the able-bodied and wheelchair access via
50/ Iveco
50/ Iveco
Iveco Daily 70C
the installed underfloor cassette lift
Daily 50C
Daily 50C
Car Licence
LR Licence
LR Licence
Dimensions
Width
2410mm
2410mm
2410mm
Height (including air conditioner/s)
3185mm
3185mm
3185mm
Length in feet/metres
24ft/7.32m
26ft/7.92m
30ft/9.14m
Internal Height
6'5"/1970mm
6'5"/1970mm
6'5"/1970mm
Internal Width (at bed height)
3180mm
3180mm
3180mm
Full Driver's side slide-out length
4750mm
5375mm
6380mm
* Standard
opt Optional
n/a Not applicable
Sleeping arrangements – Full size beds
Twin Single Beds
opt
opt
opt
Double Bed
*
*
*
Queen Bed
n/a
opt
opt
General
3D Bird's Eye View 360 degree Driving camera system with recorder
*
*
*
DHollandia DC03.003 cassette Wheelchair lift
*
*
*
Roof mounted Reverse Cycle Air Conditioner
*
*
X 2
12v Heavy Duty Wall Mounted Awning
4m
5m
6m
Gas bottles
2x 4.5kg
3x 4.5kg
2x9kg + 4.5kg
Exterior Storage Bins (not incl. Gas)
5
6
7
Water Tanks – Litres Fresh/Grey
140/140
200/200
300/200
Solar Power charging system
200w
300w
500w
Marine 200ah Lithium Battery
1
2
3
3 burner gas hob with sink combo
*
*
n/a
Oven with 3 burner gas hob + 1 electric hob
opt
opt
*
Full height pantry
n/a
n/a
opt
2 separate dining tables
*
*
*
3rd removable dining table for lounge seat/dinette
n/a
n/a
opt
Perm. Mounted Swivel HD LED TV with built-in DVD
24"
24″ & 24"
24″ & 28"
Straight lounge seat or recliner chair
n/a
n/a
*
Dometic fridge freezer
CRX140
190ltr
238ltr
Vitrifrigo 232ltr Fridge freezer
n/a
opt
opt
TWIN 150ltr fridge freezers
n/a
n/a
opt
New mascerating toilet system
*
*
*
3.2kg Washing machine
*
*
*
Diesel ducted heating system
*
*
*
Generator
TEC29
TEC29
TEC29
Hydraulic levelling leg system
*
*
*
CUSTOM DISABILITY OPTIONS INCLUDE
Single bed tracks for access to both sides of the bed
Height Adjustable bed – single bed
Extendable Work Station
Disability Driving Aides, Lift Hoist and Roof track systems
STANDARD – Electric bed head lift (all beds)
STANDARD – Extending kitchen counter top with fixed microwave
STANDARD – Automated windows and Blind system
STANDARD – Extending vanity bench with leg room clearance
Other Motorhome Options include
Bike rack
Hand bike storage (ie. Batech)
Outdoor kitchen
External TV or Mirrored TV
Extra Solar panels
Extra Batteries
Extra water
Tow bar
SatKing Pro Max
RV WiFi Router